Pierre Edmond de Chazal (1895 – 1950)
The first de Chazal to live in Australia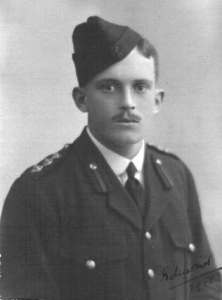 Pierre Edmond de Chazal was born in Courbevoie in Mauritius at 5am on 12 October 1895. He was a great-grandson to both Furcy de Chazal and Edmond de Chazal. His parents, Antoine Pierre de Chazal and Marcelle Levinville were wealthy in his youth. Edmond grew up in an affluent and role-conscious society. From childhood he took pride in being the senior male descendant of his grandfather Pierre Edmond and in bearing the same name. It was the second era of global expansion of the de Chazal family. Edmond and his five siblings, Jeanne, Raymonde, Gaston, Maurice and Elaine all spent a major part of their lives away from Mauritius.
Edmond was a good student, particularly in languages and history. He was educated at Clifton and later at Cambridge University. In 1912 his family moved from Mauritius to Switzerland, having converted their property assets to cash. Years later Edmond told his son that the intention had been to move eventually to Bolivia to grow sugar. In September 1915, in the course of the First World War, Edmond left University to join the British Army. It appears that he distinguished himself with his skill in languages and confidence in dealing with people. As an aide to very senior military and civilian figures he gained knowledge of European and international politics. After the war, declining to return to university, he was involved in the armistice talks and in the establishment of the League of Nations. Later he was a liaison officer between the British and French contingents in the Allied occupation of Berlin.
In 1922 Edmond returned to Mauritius. His father had lost the major part of his fortune in the course of the war by "investing" in French and Russian war bonds – Edmond was very critical of this disaster. Back in Mauritius he appears to have come into disfavour with other family members, probably through spending beyond his means (his son's romantic idea in later years that the reason his father was declared a "black sheep" had involved women – perhaps cousins in the Mauritian tradition – has failed for lack of evidence).
In 1924 Edmond left Mauritius, travelling via Zanzibar and Aden, arriving in Melbourne, Australia, in September. Apparently he still had sufficient money to join in Australian society. He soon made the acquaintance of a very wide set of people; people who were significant then and through the next 50 years of Australian history.
Sometime before 1929 he arrived in Perth in Western Australia. Here he met Jean (Babe) Barker, attractive 19 year old daughter of a Perth businessman. On 30 January 1932 (a distressingly hot time of the year in Perth) Edmond and Babe were married, somewhat to the dismay of her family – as the marriage was suggested when the two met for morning coffee, and was done before lunch. By this time Edmond was known as Pierre, an easier first name for Australians to grasp. The Great Depression left Pierre without income. For the next 9 years Pierre and Babe survived on his earnings as a salesman and as an occasional lecturer in history.
According to Babe (now 91 and known as Jane), their marriage was an idyllic romance. The 14 year gap in age left Pierre as the hero in the household. Pierre loved food and Babe became an exceptional cook. In 1932 friends encouraged the pair to open a small restaurant in the centre of Perth. "Pierre's" was successful in its food and company, but not so financially. Up to 50 years later chance encounters of their son with aging strangers recounted happy memories of this restaurant. Their only son, Pierre Edmond, was born in Perth in 1938 – to avoid confusion with the father he was known as Edmond.
Pierre's politics appear to have been more encompassing than those of many other members of the de Chazal family: his Australian friends ranged from a conservative future Governor-General to communist intellectuals. His one political obsession was support for de Gaulle.
In March 1941, during the Second World War, Pierre joined the Australian army. However, delegated to the administration of a prisoner of war camp for interned Italians (the internment at that time of Australian citizens of German and Italian origin is today regarded as a disgrace in Australia), he was unhappy and restless to serve closer to the front. He found in 1944 a job with the British Far Eastern Broadcasting Service in New Delhi, directing French language broadcasts for the war effort. Babe and young Edmond remained in Perth. After the war Pierre moved to Singapore to head the relocated French broadcasting service for BFEBS, the radio now concentrating on Indochina. His family joined him in Singapore during 1946.
Weaned on the ideals of the League of Nations, Pierre was committed to the objectives of the new United Nations Organisation. In 1948 Pierre joined the fledgling Food and Agricultural Organisation of the UN, the family moving to Washington DC. In 1949 there was a another move, now as a language specialist for the General Assembly of the UN at Lake Success in New York. At the beginning of 1950 Pierre was appointed to the secretariat of the UN trusteeship council for Somalia, and the family moved to Mogadishu.
Late in 1950, while visiting a remote Somali village and accompanied by 12 year old Edmond and by Babe (by then known as Jeanne), Pierre ran to the rescue of his son who was being threatened by a village dog. Pierre was bitten, the dog proved to be rabid, and treatment for Pierre was delayed by the isolation. Many weeks later Pierre died as a consequence of rabies. Could he have done more for the unfortunate future of Somalia but for the intervention of mad dogs and Englishmen?
Jeanne and Edmond returned to Perth to the support of her relations. Within five years the adolescent Edmond changed his name to Pierre, for much the same reasons as his father – and still later became Pierre Edmond in a quest for uniqueness!
As a pioneer de Chazal in Australia Edmond (the subject of this article) left no memorial in industry or agriculture. His family still describe him as the black sheep sent to the colonies, but none have yet said precisely why. He was an oddity in Australian society, but he did not become a part of it. Men and mothers mistrusted him; younger women were fascinated by him. He did not regain the wealth whose trappings he longed for – the money itself he would probably have given away, for he was a very generous person. Instead he left a legacy of idealism, ambition, pride in the de Chazal family and a devotion to the concept of noblesse oblige. His descendants, without money, see knowledge as wealth and are endeavouring to make a contribution to their nation by pioneering in new fields of knowledge.
Edmond's estrangement from his family in Europe distressed him. Steeped in the New Church in his youth, and very conscious of his family's continued support of that church, Edmond does not appear to have been "externally" religious. Ironically, in the 50 years since his death he has left one significant financial endowment: the United Nations continues to pay Jean/Babe/Jeanne/Jane a widow's pension, in aggregate more than a million dollars has now been paid, the same amount of their enduring fantasy "when the ship comes home"!