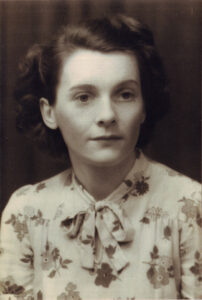 A tribute to Mother by Alix :
Berthe Mayer, (1913-1981)
Berthe Mayer (1913) < Jeanne de Chazal (1892) < Pierre de Chazal (1865) < Pierre Edmond de Chazal (1837) < Furcy de Chazal (1810) < Toussaint de Chazal (1770) < Régis de Chazal (1735)

TWO STORIES ABOUT MY MOTHER IN MADAGASCAR, BERTHE MARCELLE MAYER, THAT PEOPLE WOULD NOT KNOW
She is my hero. What she did for the allied cause during the war, starting at the age of 28 years old, was extraordinary.
Berthe was an ordinary citizen of British nationality. When her first born baby, Paul, was 14 months old In March 1941 she undertook the very dangerous work of communicating with the British Military Intelligence using Morse Code on a wireless hidden in the house where she was living with her mother-in- law in Tananarive. Shortly after she began her wireless transmissions, she was pregnant with her second baby, Alix. Berthe continued this secret work for 17 months until the capitulation of Madagascar by the British invasion. She, being fully aware of the danger involved, volunteered to help her husband Percy Mayer, who had volunteered to work for the SOE against the traitor Vichy government of Madagascar. Her husband disappeared for months during his extremely dangerous missions to help facilitate the invasion of Madagascar by the British Royal Navy. Her home was searched to no avail by government officials who had determined that the transmissions were coming from her neighborhood. If guilty she would have been executed along with her family. Imagine her fear.
Berthe, alone, coped with her little family whilst doing clandestine transmissions. The new baby, Alix, was born in January 1942. My mother wrote me a letter on my 36th birthday where I lived in America. It's the only time she has ever shared any of her fears and stresses of the time that she was doing hertransmissions. Her words give a little window of insight into the harrowing times that she then endured.In her own words, "I can't believe that it's 36 years ago that you were that tiny thing weighing under 6 pounds during the war, with Daddy away most of the time and me dashing from attending to you. Feeding you 7 times a day and night to get you stronger, dashing on to my transmitting with the alarm clock shaking me from the few hours of sleep. And the coding and secrecy of it all. Even my mother-in-law and the brothers were out of it all. Anyway, you survived…."
After the capitulation of the island by the Vichy government in October 1942, my parents had a very stressful experience to have to escape from Tananarive via the east coast port of Tamatave to be transported on a troop ship to Durban, South Africa. I relate this escape as it shows the amazing bravery of a once again pregnant young mother with a 2 ½ year old and a baby in tow, in fear for their lives, having without prior warning, abandoned their home and country.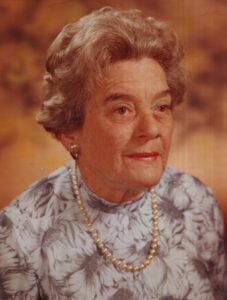 After the death of my father in November 1985, having received condolences from a British soldier Major Hugh John Legg, we became pen pals. Major Legg sent me notes from his diary written at the time of these escape events, telling me how Percy was suddenly called to a meeting with General Platt a few days after the capitulation by the Vichy government. Percy was instructed to leave the country immediately for fear of reprisals. He rushed home to collect his wife and young children. The little family had four hours from the fateful meeting with the general to the time they boarded a train provided for their escape. They were actually fleeing refugees. This train trip took 12 hours through dense rain forests. They were the only passengers on board accompanied and protected by Major Hugh Legg, along with Percy's mother and sister, Eileen. Hugh told me that during the train journey he sat me, an 8- month old baby, on his lap and managed to stop me from crying.
The first train suddenly had to be abandoned when it came upon a broken bridge. They had to carry their children and luggage across a ravine to the other side. Then they walked 1 km to a second broken bridge. There they scrambled down the second ravine, walking along a dry river bed with very steep banks, then another 200 meters to a British post in the rain forest.They only had something to drink at the post while they waited for a second train which was sent in from the coast to transport them the rest of the way to the troop ship. Swarming mosquitoes attacked them and there was no food available on the whole escape journey.
After embarking on the crowded troop ship," HMT Empire Pride" they were delayed 16 hours while awaiting their luggage from the station and a safe tide to depart Madagascar. Then they began the6-day crossing on the dangerous war-torn waters of the Indian Oceanto South Africa. Berthe was seasick immediately upon the departure of the ship leaving the dock. My brother Michael was born in June 1943, 18 months after me on South African soil. Once again Percy was not there to support his wife through childbirth as he had volunteered to serve in France with the SOE, departing for training in England on May 1943, one month before the birth of his son. Michael only met his father for the first time when he was about three years old.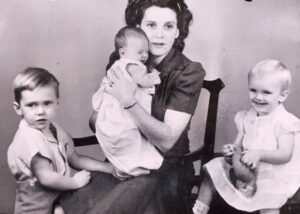 For the remainder of the war my brave mother had to manage three young children alone, fortunately with the help of some relatives both in South Africa and Mauritius.
She was truly a remarkable woman, one of a kind!
P.S. I will include a photograph of Berthe with her three little children, Paul, Alix and Michael taken in Durban, South Africa in 1943 before another dangerous ocean crossing to the island of Mauritius where she continued to ride out the rest of the war in the protection of her parents.
Submitted by Alix Smith Mayer
September 2020