The UK Luncheon 8/3/2020
This year de Chazal Day falls mid-week. Marilyn Fanya was to holiday in Mauritius soon after so we organized a luncheon for all those allied to the de Chazal/Mayer families a few days before de Chazal Day.
Marilyn organized all the food and it was delicious! Traditional chicken curry and rice was on the menu.
What a magnificent turnout of about 40 people! It was really an occasion to remember; a varied crowd with common ancestry with the de Chazal Family.
Robert Jamet who wrote the article on François and his relationship with the Rosicrucians.https://chazfest.com/francois-de-chazal-de-la-geneste/came from Bristol, regretfully without his wife Miriam.
We were delighted to see Maurice and Katrina de Chazal with their daughter Angélique (Sim) and granddaughter Juliette. One very special guest was André Robert all the way from Mauritius who happened to be in London on this weekend. He was a very welcome last minute surprise.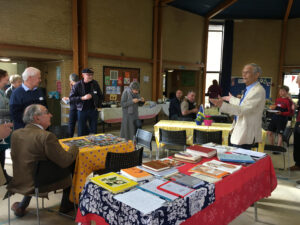 The Coronovirus sweeping the world stopped three guests from coming. We were especially disappointed that David and Helle de Chazal decided not to travel and that Kinnie de Lalouvière was not able to be our photographer.
–Christopher de Chazal