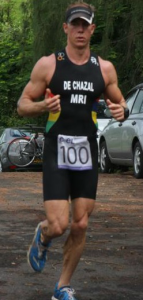 Ambitions :
To compete in the 2016 Olympic Games in Rio de Janeiro
(Brazil).
Marathon bike ride :
In 2009 he completed a solo bicycle ride over 3,300 km from Sydney to Cairns in Australia, taking one and a half months.
Boris de Chazal ( 1984) < Gaetan de Chazal (1955) < Gaetan de Chazal (1923) < Roger de Chazal (1895) < Edouard de Chazal (1864) < Auguste de Chazal (1841) < Edmond de Chazal (1809) < Toussaint de Chazal (1770) < Régis de Chazal (1735) < Noble Aimé de Chazal (1706) < Jean-Baptiste Chazal (16..) < Jean II Chazal (16..) < Jean I Chazal (16..0)
Watch as Glasgow 2014 crowds go wild for the Mauritius Triathlon mixed relay team as Boris de Chazal comes in 11 minutes 37 seconds behind gold medalists England.
The warm reaction of those watching in the pouring rain at the Strathclyde Country Park and the interaction between the athletes and the public made for a very special moment for everyone involved.
This Video shows Boris de Chazal coming in 11 minutes after the winner of the triathlon. An accomplishment for sure!
https://www.facebook.com/photo.php?v=682565145163855
Message added : July 30, 2014[/fusion_builder_column][/fusion_builder_row][/fusion_builder_container]