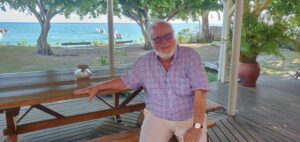 C'est avec beaucoup d'émotion et une infinie tristesse que nous apprenons la mort de Tristan de Chazal, survenue le dimanche 14 août un peu avant 9 heures du matin en région parisienne. Depuis quelques années il se battait courageusement contre la maladie sans jamais se plaindre. Il venait d'avoir 80 ans le premier janvier dernier.
La cérémonie des obsèques se tiendra le 25 août à 10 heures 30 à l'église Notre-Dame de Lourdes, 1427 Avenue Roger Salengro, 92370 Chaville.
Tristan est l'auteur du premier dictionnaire de la famille de Chazal. C'est un ouvrage majeur constitué de milliers d'informations et de centaines de photos, constamment remis à jour. Un projet qu'il avait à cœur auquel il a consacré pendant 40 ans, le temps libre que lui laissait l'exercice de la médecine à Paris.
C'était un vrai gentleman. Il manquera à toute notre famille.
Nous adressons à Claudine son épouse qui l'a accompagné tous les jours durant deux mois de son séjour à l'hôpital, ainsi qu'à toute sa famille tout notre soutien et nos plus sincères condoléances
Carlos De Chazal
Sentidos pésames
Pablo de Chazal
Que pena
Que descanse en paz
Carlos De Chazal Bottani
🙏🙏🙏.
Juan Pablo Lorenzetti De Chazal
🙏🙏🤲🤲.
Flora de Chazal
Que en paz descanse
Susana de Chazal
Que en Paz descanse .
Nora Eugenia Usandivaras
Que su alma descanse en paz!tuvimos el gusto de tenerlo de visita en Metan hace unos años!
Fernanda Gonzalez de Chazal
Un abrazo a toda la familia de Chazal 🙏🏼
Caro Bach
Un gran cariño a la familia❤️
Ives de Chazal
Truly sad and a great loss…🙏🏽
Lola Lagesse
Toutes mes sincères sympathies pour le décès de Tristan rip
Gonzalo de Chazal
Really sad day, I met him in Paris many years ago, he showed me around and gave me a de Chazal family book.
Jean Marie Douyere
Je l'avais connu en Afrique du Sud, lors de notre Cousinade. Il s'exprimait très bien en Anglais.
Toute ma sympathie a son Épouse et à sa famille.
Christian Chazal
Ce fut une de mes bonnes connaissances que l'on n'oublie pas Condoléances à son fils
Christian Chazal
Je lui avait fait procurer le très beau auto portrait de Pauline de CHAZAL( 1820), petite fille de l'Amiral de SAINT FÉLIX
Jean-François Baissac
Regrets sincères.
Alix Henry
Sincères condoléances 🙏
María Eugenia De Chazal
Abrazo fuerte a toda la familia ❤️❤️
Gaston de Chazal
Q.E.P.D🙏🙏
Claire De Chazal Etches
Our sincerest condolences, may he RIP
Beatriz Dechazal
Un fuerte abrazo !
Alicia Ramos
🙏🙏🙏
Christiane Galland
Oh Tristan tu vas tant nous manquer😪😪😪
Véronique Baissac De Guardia
Rip 🙏.
Toute mon affection à Claudine et famille.
Karla Ybarnegaray de Chazal
Descanse en paz y en brazos de Dios.
Nuestras oraciones están con él.
Sergio de Chazal
R.I.P dear uncle! What a blessing was to meet you and enjoy your company and your family in 1993. Youll be missed!
Silvana de Chazal
Un abrazo enorme para Claudine y sus hijos.
Ariel Serre
Je suis désolée d'apprendre cette triste nouvelle. Toutes mes condoléances à la famille de Tristan.
Gui Mal Jam
Paix à ton âme Tristan
Ardill Nelly
David et Nelly Ardill
Gamins, Tristan m'a initié aux régates, discipline que j'ai poursuivi toute ma vie. Encore plus, il a renoué avec nos cousins d'Argentine et de Bolivie, qui sont devenus de vrais amis. Nelly se joint à moi pour transmettre nos condoléances à Claudine et son fils.
De Chazal Sydney
C'est avec grande tristesse que nous apprenons le décès de Tristan. Tout petit j'avais été impressionné par cet homme à l'accent, pour moi, inconnu. Sa passion de la généalogie familiale a permis de rassembler les de Chazal du monde entier. Merci à toi. Tu nous manqueras. Bises, Alizée, Océane, Line et Sydney
Robert Jamet
Toutes mes condoléances à sa famille. Sa gentillesse, patience et fidelité etaient venues à mon ouïe et son oeuvre titanesque à ma vue. Qu'il ait été et travaillé ainsi malgré ses obligations familiales, professionnelles et autres, nous font mesurer des qualités insondables à nos sens naturels. Merci, Tristan, pour ce témoignage d'une grande fragrance et cet héritage d'une agréable saveur.
Ros De Chazal
So sorry to hear of Tristan's death. He really was a lovely man. Condolences to his wife and children. Roselyne de Chazal
Silvana de Chazal
Una gran tristeza para toda la familia. Siempre estará con nosotros
Témoignage de Henri de Chazal, le fils de Tristan