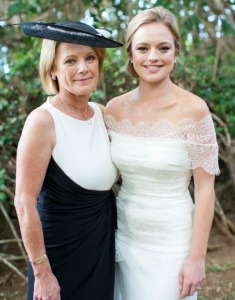 Catherine de Chazal (1952) < Roger de Chazal (1922) < Roger de Chazal (1895) < Edouard de Chazal (1864) < Auguste de Chazal (1841) <
Edmond de Chazal (1809) > Toussaint de Chazal (1770) > Régis de Chazal (1735) > Noble Aimé de Chazal (1706) > Jean Baptiste (16 ..) > Jean II (16..) > Jean 1 (16..)
Photo prise le 30 août 2012 lors du mariage de sa fille Valérie.
L'hommage de Rodney Philips lors des funérailles
Dear God,
This is an announcement. Catherine is about to come knocking on Heaven's door. She will arrive at the Pearly Gates with her usual style – in a convertible black Volkswagen beetle, designer jeans, and coiffure blow-dried by Frances of Lees Street.
You don't need to check her visa. She is supremely qualified to join your community of angels.
But please don't argue with her. She rarely loses an argument. Ask Bernard.
Kindly assign to her your finest 5-star accommodation. It needs to be filled with white roses, blue-and-white cushions, Chazal paintings, flowering medinilla plants, and two ugly dogs.
Please ensure there is space in her dining room to accommodate a table to seat at least 20 guests. Catherine specializes in entertaining in large numbers, so there needs to be enough food to satisfy half the Mauritian population – foie gras and langouste at Christmas, prawn paella at Easter, and carri de cerf during the hunting season. Nobody leaves her house hungry, except Jean-Pierre Lenoir.
Catherine loves to laugh. She will laugh at the same joke over and over again, as if she was hearing the joke for the first time. How we laughed when we were all young, during those weekends at Le Morne. How we laughed in New York City when we arrived in a stretch limousine at a posh restaurant and everyone thought Catherine Mayer was Catherine Deneuve. How we laughed driving through the Serengeti when Shule, our Tanzanian guide, ate all the foie gras we were saving for our last night. Over the last three years, and especially today, Catherine shows us how laughter is more powerful than tears.
By the way, if any of your angels are planning to get married, Catherine will organize everything. It will be a wedding made in Heaven.
We will continue to email her telling her how much we love and miss her. She may not have time to reply, as she is always so busy. But we are certain she is holding each one of us in the palm of her hand.
Message added : May 15, 2014