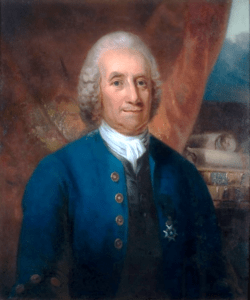 The following was summarized from the chapter, Swedenborg: Man Beyond Measure, in Bruce Hendersons book, Window to Eternity, as a pamphlet for the Bryn Athyn Cathedral, where it is very popular with visitors. It is available for other Church societies and anyone else interested.
Ralph Waldo Emerson called Emanuel Swedenborg "a colossal soul who lies vast abroad on his times.
He is not to be measured by whole colleges of ordinary scholars."
American poet Edwin Markham said: "There is no doubt that Swedenborg was one of the greatest intellects that has appeared upon the planet . . . the wisest man in millions."
To Helen Keller he was "one of the noblest champions Christianity has ever known."
Who was this man?
????????
During his lifetime, Swedenborg's contributions to science, philosophy and theology were well known in European intellectual circles, including Kant, Wesley, Goethe, Rousseau and Voltaire.
He was a member of the Swedish House of Nobles, an economist, inventor and scholar. All before the most remarkable period of his life: as a revelator and "servant of the Lord."
This unique spiritual experience separated him from all other renowned men. Between 1720 and 1745 he wrote 20 volumes on civil, scientific and philosophical subjects. Then, at age 57 and continuing for the last 27 years of his life, he wrote more than 30 volumes of closely reasoned theology, which he claimed came directly from God. (This church, and others like it throughout the world, is devoted to "the new Christianity" of this revelation. It emphasizes acknowledging the Lord and His Word, following His Commandments, and living a life of use and charity.)
Many leading thinkers in the 19th century also saw him as a man of exceptional insight, including Abraham Lincoln, William Blake, Robert and Elizabeth Barrett Browning, Samuel Taylor Coleridge and John Greenleaf Whittier.
Emanuel Swedenborg was born in Stockholm, Sweden, January 29, 1688, to Jesper and Sara Swedberg – an intensely religious family. Jesper was professor of theology at the University of Uppsala. He later became bishop of Skara, making him a nobleman, and the family name was changed to Swedenborg.
The Swedenborg home was genteel and reverent. Even though Emanuel's mother died when he was 8, her soft nature influenced him throughout his life. Family discussions of religious subjects helped him develop his own philosophy. He said of his youth: "I was constantly engaged in thought upon God, salvation, and the spiritual diseases of men."
At age 11, he entered Uppsala University – not unusual for a boy of high intellectual promise. He majored in philosophy, which included science and mathematics, and took courses in law, theology and medicine.
Most of his instruction was in Latin; he even wrote poetry in Latin for relaxation. He also learned Greek, Hebrew, English, Dutch, French and Italian, studied music on his own and filled in for the church organist. He was versatile, curious and practical.
He completed his formal studies at 21 and devoted the next 35 years to self-directed education. He learned physics and astronomy, was skilled in watch­making, bookbinding, cabinet work, engraving and lens grinding, and studied cosmology, mathematics, anatomy, physiology, economics, metallurgy, mineralogy, geology, mine engineering and chemistry.
He made models of a glider and a submarine, hundreds of years before anyone else saw the possibilities, and designed a prototype phonograph, a machine gun and a fire extinguisher.
He plunged into anatomy with the same curiosity and initiative. This was still a primitive science but he not only came closer to understanding the functions of heart and lungs, blood and oxygen than anyone to that date, but was ahead of his time in many other areas of anatomical research.
Throughout all of this intense study and accomplishment, he never forgot the advice of his father: "I beg you most earnestly that you will fear and love God above all else, for without this fear of God all other training, all study, all learning is of no account."
His life was not spent indulging personal whims, however. He was devoted to public service, the Swedish government and his country. At 28 he was appointed by King Charles XII as extraordinary assessor in the Royal Board of Mines. His public career included 50 years of service in the House of Nobles and devotion to the welfare of his country.
All of his work rested on the assumption that divine force underlies all matter. He was not satisfied with purely material explanations of the universe. This led him to study the relationship between the finite and infinite, with the human soul as the link between God and man.
At age 57, he felt he had gone as far as he could in explaining the mysteries of human existence based on science. He was about to begin a unique phase of his life that would take him deeper into understanding these mysteries than he ever could have imagined.
It began in 1744 with dreams and visions that left him both fearful and exhilarated. He kept a careful record of what he experienced and how he felt. It was a disquieting period, which he did not yet understand, so he kept the dreams to himself.
Swedenborg believed he had been called by God to transmit a new revelation to the world, and devoted himself to that service for the rest of his life. He began a two-year study of the Bible, writing thousands of pages of notes and a complete index for his later theological works. And he perfected his Hebrew and Greek to study the Bible in original texts.
Throughout this spiritual mission, he said he talked almost daily with spirits while living a normal life on earth and stated: "The Lord in His divine mercy has granted me the opportunity for several years now . . . to keep company with spirits and angels, to hear them talking, and to speak with them in return. Consequently I have been able to see and hear the most amazing things in the other life, which have never before come into people's awareness or thought."
He insisted that he was not dreaming but fully awake to what he saw and heard in the spiritual world, could reflect on his experiences with real understanding, and that at all times he was taught by the Lord alone – through angels, but not by angels.
Swedenborg is often identified as a "scientist, philosopher and mystic." But he cannot be so simply classified, because his experience was unique. It shares little with the visions of self-styled seers, and he never encouraged a mystical way of life. His works are an intricate presentation of doctrine, not personal philosophy.
He did not rush into print the moment he felt called, nor attract attention to himself. He waited until he had three years of experience in the spiritual world before he began to write. His first and most exhaustive theological study, Secrets of Heaven (Arcana Coelestia), written in 1748, is a verse-by-verse analysis of the spiritual meaning of Genesis and Exodus.
Other works include: Divine Love and Wisdom, Divine Providence, the Heavenly Doctrine (The Lord, Sacred Scripture, Life and Faith), Heaven and Hell, Marriage Love, Apocalypse Revealed and Apocalypse Explained, and True Christian Religion.
He published his books anonymously, seeking no credit – even among friends – spending a lot of his own money and giving them as gifts to clergymen, universities and libraries.
He lived a normal life and never married, leaving him free for his studies. Friends and acquaintances noticed nothing unusual about his life.
He had no command to establish a church, although he assumed this revelation would be the basis for a new church.
When he was 80, a friend wrote: "Someone might think that Swedenborg was eccentric and whimsical, but the very reverse was the case. He was very easy and pleasant in company, talked on every subject that came up, accommodating himself to the ideas of the company, and never speaking of his own views unless he was asked about them."
Engrossed in his crowning work, True Christian Religion, or True Christianity, at age 82 he made his final journey to complete its publication. He must have felt he would not return, for he made farewell calls on friends, arranged a pension for his faithful house­ keeper, and settled his estate.
He had predicted six months before his death that he would enter the spiritual world on March 29, 1772. He awoke from a long sleep that day and ask his landlady for the time. When she told him it was five o'clock, he said, "I thank you. God bless you." Then he gently sighed and died.
In the last month of his life several friends urged him to make a final statement about the truth of the new revelation. He answered, "I have written nothing but the truth, as you will have more and more confirmed to you all the days of your life, provided you keep close to the Lord and serve Him alone by shunning evils of all kinds as sins against Him and diligently searching His Word, which bears incontestable witness to the truth of the doctrines I have delivered to the world."
To another friend shortly before he died he said: "As truly as you see me before your eyes, so true is everything that I have written; and I could have said more had it been permitted. When you enter eternity you will see everything, and then you and I will have much to talk about."
????????
Adapted from "Swedenborg: Man Beyond Measure" in the book "Window to Eternity" by Bruce Henderson.
Box 277, Bryn Athyn PA 19009
Qui est Swedenborg ?
(Remarque : Ce qui suit est un résumé du chapitre Swedenborg: Man Beyond Measure, tiré du livre de Bruce Henderson, Window to Eternity, et publié dans un livret destiné à la Cathédrale de Bryn Athyn, où il jouit d'une grande popularité auprès des visiteurs. Il est également disponible à d'autres groupes religieux et à quiconque y est intéressé.)
Ralph Waldo Emerson était d'avis qu'Emanuel Swedenborg était « un colosse spirituel qui transcendait son temps. Son influence ne peut être mesurée par des universités entières de simples érudits ».
Le poète américain Edwin Markham a dit de lui : « Il n'y a aucun doute que Swedenborg est l'un des plus grands intellectuels qui soient apparus sur notre planète… l'homme le plus sage d'entre tous. »
D'après Helen Keller, il a été « l'un des plus grands défenseurs du christianisme de tous les temps. »
Mais qui était cet homme qui suscitait tant de respect chez les autres intellectuels ? Un homme qui possédait plus d'expertise dans plus de domaines que tout autre scientifique avant ou après lui ? Un homme qui nous a laissé l'une des plus vastes collections de documents théologiques connues au monde ?
Au cours de sa vie, les contributions de Swedenborg à la science, la philosophie et la théologie étaient bien connues des cercles intellectuels européens, y compris ceux d'Emmanuel Kant, de John Wesley, de Goethe, de Rousseau et de Voltaire.
Il était membre de la maison des nobles suédois; c'était un an économiste, un inventeur et un érudit. Tout cela avant même que ne s'amorce la période la plus remarquable de sa vie, à titre de révélateur et de « serviteur du Seigneur ».
Cette expérience spirituelle unique le distingue d'autres hommes de renom. Entre 1720 et 1745, il a écrit 20 volumes portant sur des sujets d'ordre civil, scientifique et philosophique. Ensuite, à partir de l'âge de 57 ans et durant les 27 dernières années de sa vie, il a écrit plus de 30 livres de théologie bien raisonnée, qu'il disait lui provenir directement de Dieu. (Cette Église, de même que d'autres Églises semblables à l'échelle mondiale, se rallie derrière le « nouveau christianisme » tiré de cette révélation. Elle invite à reconnaître le Seigneur et sa Parole, à suivre ses commandements et à vivre une vie utile, fondée sur la charité.)
Plusieurs grands penseurs du 19e siècle, y compris Abraham Lincoln, William Blake, Robert et Elizabeth Barrett Browning, Samuel Taylor Coleridge et John Greenleaf Whittier, admiraient son extraordinaire degré d'introspection.
Emanuel Swedenborg est né à Stockholm, en Suède, le 29 janvier 1688, à Jesper et Sara Swedberg, une famille profondément religieuse. Jesper Swedberg était professeur de théologie à l'Université d'Uppsala et doyen de sa cathédrale. Lorsqu'il devint évêque de Skara, il acquit le statut de noble et son nom de famille devint alors Swedenborg.
Le milieu familial des Swedenborg était un milieu bienveillant et respectueux. Même si sa mère est décédée alors qu'Emanuel n'avait que huit ans, la douceur naturelle de celle-ci l'a influencé tout au long de sa vie. Les discussions familiales sur la religion et d'autres sujets classiques l'ont aidé à élaborer sa propre philosophie. Il a dit à propos de sa jeunesse : « Je pensais constamment à Dieu, à la rédemption et aux maladies spirituelles des hommes. »
À l'âge de 11 ans, il fut admis à l'université d'Uppsala, ce qui était alors assez normal pour un garçon doué. Il étudia principalement la philosophie, laquelle incluait les sciences et les mathématiques. Il suivit également des cours de droit et étudia la théologie et la médecine.
Il étudia principalement en latin; il écrivait même des poèmes en latin pour se détendre. Il apprit également le grec, l'hébreu, l'anglais, le néerlandais, le français et l'italien. Il apprit la musique en autodidacte et remplaça à l'occasion l'organiste de son église. Il était polyvalent et curieux et était doué d'un esprit très pratique.
Il termina ses études formelles à l'âge de 21 ans et consacra les 35 prochaines années de sa vie à son apprentissage en autodidacte. Il étudia la physique et à l'astronomie; il apprit l'horlogerie, la reliure, l'ébénisterie, la gravure, le polissage de lentilles; il étudia aussi la cosmologie, les mathématiques, l'anatomie, la physiologie, la politique, l'économie, la métallurgie, la minéralogie, la géologie, le génie minier et la chimie.
Il inventa un modèle de planeur ainsi qu'un modèle de sous-marin plusieurs centaines d'années avant que ces objets ne deviennent réalité et il conçut un prototype de phonographe, une mitrailleuse ainsi qu'un extincteur d'incendie.
Il s'initia à l'anatomie avec la même curiosité et le même esprit d'initiative. Même si cette science en était encore à ses premiers balbutiements, Emanuel Swedenborg comprit, mieux que quiconque à cette époque, les fonctions du cœur et des poumons, du sang et de l'oxygène et fut également un précurseur dans plusieurs autres domaines de la recherche anatomique.
Tout au long de ses apprentissages et de ses réalisations sans répit, il n'oublia jamais le conseil que lui avait donné son père : « Je te supplie d'abord et avant tout de craindre et d'aimer Dieu, car, sans cette crainte de Dieu, toute autre formation, toute autre étude et tout autre apprentissage ne valent rien. »
Toutefois, sa vie ne se limita pas à satisfaire ses caprices. Il était entièrement dévoué à la fonction publique, au gouvernement de la Suède et à son pays. À l'âge de 28 ans, il fut nommé assesseur extraordinaire au Collège royal des mines par le roi Charles XII. Sa carrière de fonctionnaire public comprend 50 ans de service auprès de la Maison des Nobles et son dévouement sans bornes au bien-être de son pays.
Son travail s'appuyait en tout temps sur la présomption que tout dépend de la force divine. Il ne se satisfaisait pas d'explications purement matérielles de l'univers, ce qui l'amena à étudier la relation entre le fini et l'infini, avec l'âme humaine servant de lien entre Dieu et l'homme.
À l'âge de 57 ans, il jugea qu'il ne pouvait aller plus loin dans l'explication des mystères de l'existence humaine fondés sur la science. Il allait entamer une phase unique de sa vie qui lui ferait comprendre ces mystères mieux encore qu'il n'aurait jamais pu s'imaginer.
Cela commença en 1744 avec des rêves et des visions qui allaient à la fois lui faire peur et l'exalter. Il consignait soigneusement par écrit ce dont il faisait l'expérience et ce qu'il ressentait. Ce fut une période troublante de sa vie, qu'il ne comprenait pas encore et au cours de laquelle il ne dévoila pas ses rêves.
Swedenborg croyait que Dieu l'avait désigné pour transmettre au monde une nouvelle révélation et il se voua au service de Dieu pour le restant de sa vie. Il entama une étude de la Bible pendant deux ans, au cours desquels il écrivit des milliers de pages de notes et dressa un répertoire complet pour ses travaux théologiques ultérieurs. En plus, il étudia plus à fond l'hébreu et le grec afin de pouvoir lire les textes originaux de la Bible.
Il témoigna que, tout au long de sa mission spirituelle, il parlait presque quotidiennement avec les esprits tout en vivant une vie normale sur terre et il déclara ce qui suit : « Dieu, dans sa divine Miséricorde, m'a accordé l'occasion depuis plusieurs années… de tenir compagnie aux esprits et aux anges, me permettant de les entendre et de parler avec eux. Ainsi, j'ai pu voir et entendre les choses les plus extraordinaires dans l'autre vie, que personne d'autre n'aurait pu connaître ou imaginer. »
Il affirmait qu'il ne s'agissait pas de rêves, mais qu'il était tout à fait réveillé lorsqu'il voyait et entendait ce qui se passait dans le monde spirituel et qu'en tout temps, c'était le Seigneur lui-même, et non pas les anges, qui lui apprenait ces choses, mais que le Seigneur le faisait par l'entremise des anges.
Swedenborg est souvent défini comme « un scientifique, un philosophe et un mystique ». Mais il ne peut être décrit de façon aussi simple, car son expérience fut unique. Cette expérience n'avait rien à voir avec les prétendus voyants et Swedenborg ne prôna jamais un style de vie mystique. Ses écrits constituent une présentation complexe de doctrine et non sa philosophie personnelle.
Il ne fit pas tout imprimer dès qu'il entendit le premier appel de Dieu, ni ne tenta d'attirer l'attention. Il attendit d'avoir eu trois années d'expérience dans le monde spirituel avant de se mettre à écrire. Sa première étude théologique exhaustive, Arcanes Célestes (Arcana Caelestia), écrite en 1748, est une analyse, verset par verset, de la signification interne spirituelle de la Genèse et de l'Exode.
Ses autres ouvrages comprennent Du divin amour et de la divine sagesse, La divine Providence, La doctrine céleste (le Seigneur, l'Écriture sainte, la vie et la foi), Le Traité du ciel et de l'enfer, L'amour conjugal, L'Apocalypse révélée et L'Apocalypse expliquée (au sujet du Livre de l'Apocalypse) et La vraie religion chrétienne.
Il publia ses livres à titre anonyme, sans essayer d'en tirer quelque reconnaissance que ce soit, même de la part de ses amis, et il se servit de son propre argent pour offrir ces livres à titre anonyme aux membres du clergé, aux universités et aux bibliothèques.
Il vécut une vie normale, s'isolant parfois et ne se maria jamais, ce qui lui permit de se consacrer en toute liberté à ses études. Ses amis et ceux qui le connaissaient ne remarquèrent rien de particulier dans sa façon de vivre.
Au fur et à mesure qu'il ne fut plus seulement reconnu pour ses connaissances scientifiques et ses services auprès du gouvernement, ses livres commencèrent à avoir une plus grande diffusion et à faire l'objet de discussions. Il souligna toujours qu'il avait été mandaté par Dieu pour faire connaître cette nouvelle révélation et il ne chercha jamais à s'attirer des louanges.
Il n'avait pas été mandaté pour fonder une église, même s'il présumait que cette nouvelle révélation pourrait être le fondement d'une nouvelle Église. Cela le distingue des apôtres qui avaient reçu l'ordre de prêcher l'Évangile, ainsi que de ceux qui prétendaient avoir une certaine perspicacité afin de s'attirer des disciples.
Lorsqu'il avait 80 ans, un ami écrivit à son sujet ce qui suit : « D'aucuns pourraient croire que Swedenborg était excentrique et bizarre, mais, en fait, c'était tout le contraire. Il était facile et agréable d'être en sa compagnie. Il pouvait discuter de toutes sortes de choses, tenait compte des idées des autres et ne cherchait jamais à faire prévaloir ses idées, à moins qu'on ne l'invite à le faire. »
Alors qu'à l'âge de 82 ans, il se consacrait entièrement à ce qui allait être son chef-d'œuvre, La vraie religion chrétienne, il entreprit un dernier périple afin de s'assurer que cette œuvre soit publiée. Il avait probablement pressenti qu'il ne reviendrait pas, car il fit ses adieux à ses amis et collaborateurs, s'occupa de verser une pension à sa fidèle domestique et régla sa succession.
Il avait prédit six mois avant sa mort qu'il ferait son entrée dans le monde spirituel le 29 mars 1772. Après s'être réveillé d'un long sommeil ce jour-là, il demanda à sa logeuse quelle heure il était. Lorsqu'elle lui répondit qu'il était cinq heures, il dit : « Merci beaucoup. Dieu vous bénisse. » Puis il poussa un léger soupir et s'éteignit.
Durant le dernier mois de sa vie, plusieurs amis l'avaient exhorté à faire une déclaration finale sur ce qu'avait vraiment été cette nouvelle révélation à laquelle il avait consacré les 27 dernières années de sa vie. Il répondit comme suit : « Je n'ai écrit que la vérité, laquelle vous sera de plus en plus confirmée tout au long de votre vie, à condition que vous vous rapprochiez du Seigneur et le serviez fidèlement et exclusivement, en évitant de faire le mal et de commettre des péchés contre lui, et que vous recherchiez assidûment sa Parole, qui, du début à la fin, témoigne incontestablement de la vérité des doctrines que j'aurai transmises. »
Peu avant son décès, il dit à un autre ami : « Tout ce que j'ai écrit est aussi vrai que ma présence ici devant vous, et j'aurais pu en dire plus si j'y avais été autorisé. Lorsque vous accéderez à la vie éternelle, vous verrez tout et vous et moi aurons alors beaucoup de sujets de discussion. »