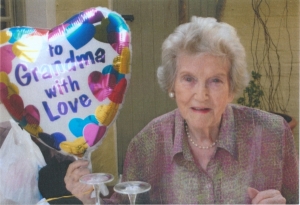 HAPPY BIRTHDAY VIRGINIA
Talking to Virginia Taylor: A FAMILY ADVENTURE.( From a Durban local newspaper)
Virginia Taylor, resident of Robert Storm House, was surprised with a congratulatory certificate from the Durban and Coastal branch of the Genealogical Society of South Africa on her 90th birthday on 4 May.
Boby Eldridge, archivist at Killie Campbell library presented the certificate to Virginia, on behalf of The Genealogical Society, to recognize her contribution to research on genealogy particularly French and Mauritian research. Virginia did extensive research and wrote two books on her family's history, tracing the family origins of the Rouillards and the de Chazals. Her research is seen as special by the society as little work has been done on the topic and hers is authoritative and well researched.
Virginia decided to write a book on her family origins after her cousin, Germaine, urged her to. "She was my inspiration and I'd never had done it otherwise. My interest was aroused in 1977 when I visited her in Graaff Rienet. She had a bookcase with documents, diaries, letters, photos and portraits, gathered over six years. I felt something should be done to ensure the unique collection would be accessible to all in the family." A lot of research went into the books and after retiring, she took two trips to Mauritius where she interviewed relatives and in 1982 she toured France. "It was interesting and I met a lot of people I never would have met if I hadn't embarked on this adventure"
Virginia has had a full and exciting life and is known as patron of family occasions. She is a warm, vital and welcoming woman with a good sense of humour and strong family ties. She is proud of her heritage and of her family. " My children have done very well. My daughter has her own linen business and I am very proud of her" said Virginia.
Virginia was born in Vryheid and her father was a mining engineer. The family moved to Durban and lived in the home which is now St Henry's Marist Brothers College. "My mother was English and my elder brother and two sisters were educated in England. My mother died when I was 10 and we moved back to Vryheid. I was then at St Anne's School, but later, owing to financial difficulties and the Depression, I had to leave and live at home and attend the Wryheid Government School." After two years there, Virginia passed matric and went to Natal University in Pietermaritzburg in 1933. "My father then moved with my stepmother and little brother to Pongola and battled to restore his fortune. Showing great fortitude and courage he eventually managed to do this."
In 1937, after earning a BA in History and English and a teaching diploma, Virginia began teaching in a primary shoool in Durban, finding time to serve at the Victoria League Canteen and to do some Red Cross nursing after school hours." My sister had married Dr. Nel Campbell and we did much entertaining at the famous Peace Cottage in Umhlanga."
In 1943 she married Lt Basil Dold of the South African Air Force. He was a member of No. 10 Squadron stationed in Durban and formed to protect Natal against possible enemy attacks. The couple had two children, Richard born in 1944 and Deborah in 1948. They were divorced in 1959.
Virginia had a varied teaching career teaching at various primary schools for 15 years which included a two-year period at the Open Air School. "This was a heart-breaking experience as I knew many of my pupils who worked so hard could not hope to reach adulthood." After those 15 years she was given four days notice to teach History and English at Mansfield Boy's School at Matric standard. " This was a challenge! Four years later I was transferred to Edgewood Teachers' Training College in Pinetown where I lectured English and English history until I retired in 1975.
In 1973 she married Group Captain Rupert Taylor OBE, a retired RAF pilot, and the couple did a lot of traveling to Europe and Canada. Rupert died in 1997. Virginia has been retired for 31 years. She still plays bridge and still drives her own car. " I have always kept up an interest in many things and I find life pleasant and secure under the care of TAFTA, which does so much for the people of Durban.